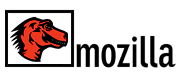 ...pero no en Internet Explorer.
Me lo encuentro en
minid.net
, y por lo visto no es nuevo, es la traducción al castellano del original «101 things that the Mozilla browser can do that IE cannot». La lista,
aquí
.
Si tuviera que elegir una de las 100 primeras características… sería complicado, ya que casi todas son importantes, así que me quedo con la 101:
Los lagartos gigantes son más originales. Mucho más original que una simple "e".
Ahí queda eso :)